Passion To Purpose – Louisville, KY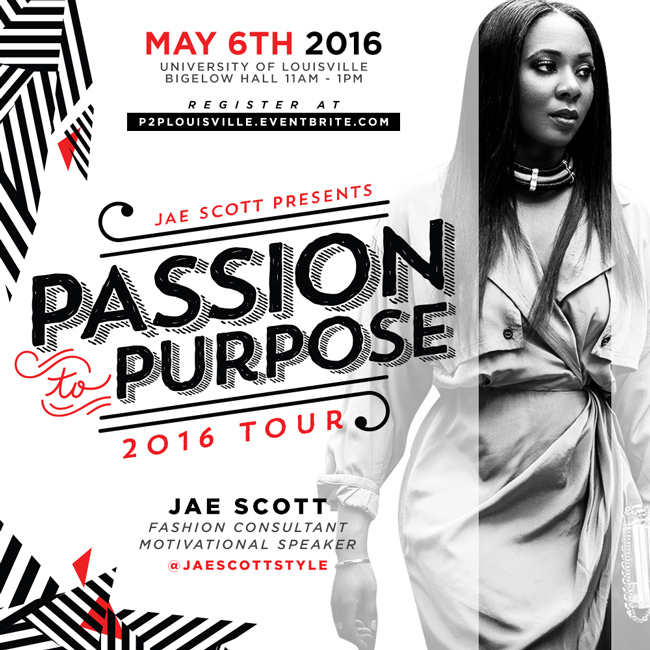 Host
Greg Brown
Entrepreneur in the field of developmental and intellectual disabilities and buisness and resource strategist.
   Panelist
Jae Scott
Motivational Speaker, Image Consultant and founder of JaeScott.com
Jeremiah Chapman, Forbes 30 under 30 List
Founder of FreshFry LLC, a Louisville based start up that produces the FreshFry pods and other innovative frying technologies.
Ronnie J. 
A marketing professional and author in the DC area. Her personal growth book "Can I Live?" encourages readers to chase their dreams despite adversity.
Dallas Wright aka "Dallas The Stylist"
Founder of Lavish Arrogance clothing line and CEO of Dallas The Stylist Inc. Mr. Celebrity Stylist to the stars; ie. Bobby Valentino, James Fortune, Demetria McKinney, Toya Wright and Lynn Whitfiled; works have been featured on Bravo, Bounce TV, Bobbcat Films, TGITV, in/on the covers of Rolling Out Magazine, Boss Magazine and numerous other outlets.
Elizabeth Jones, ESQ 
Attorney at Law, E. Jones Law & Policy LLC
Dr. Tiya Johnson 
Child/Adolescent Psychiatry Fellow PGY-4. Graduated Magna Cum Laude from the University of Louisville. Her interests include mental illness in minority populations, school mental health, college mental health, and understanding the intersection of psychiatry and the law.
Paige Quiggins
Business Development Manager, Never Grow Up, Inc.
Alexis Lilly 
Fashion Model
  Virtual Panelist
Tytianna N.M. Wells Smith
Founder of Honey Tree Publishing, LLC. Author and Illustrator of the 4-volume children's book series "Sweet Pea and Sugar Tea's Country Family Adventures: Full-time doctoral student, and Graduate Assistant at the University of Louisville; CLASS Certified Evaluator of Classroom Teacher's (Toddler), and Program Evaluator for the Global Game Changers "Discover your Superpower" Program.
Jameson Bennett
Co-founder of New York Based Fintech Start up CEWEBITY.com, SiriusXM radio Producer, Karen Hunter Show – Urban View ch. 126 4-6pm ET and app developer of zinnApp.com, CEWEBITY and Party of Lincoln iOS app.